ARCHIVE FESTIVAL
| | | |
| --- | --- | --- |
| | | |
| Festival 1996-2005 | Festival 2006 | Festival 2007 |
| | | |
| | | |
| Festival 2008 | Festival 2009 | Festival 2010 |
ARCHIVE other
USE YOUR PUBLIC SPACE
Places of Act Krakow, Places of Act Budapest, Places of Act Bratislava
the project of artists and organizations of the Visegrad Four Poland, Hungary, Slovakia, Czech Republic

Places of Act is an interactive art project in public space situated in places with similar history but different present. We have created a project with the aim of taking care and having respect to our common public space together with our partner organizations from Budapest, Krakow and Bratislava. The project contains a site-specific project with the emphasis on close international cooperation with similar organisations; however, they have various art points of view of solving the problem of public space (architectonic, urban, community projects, residential programs, cultural policy etc).
October 2007 – August 2008
The international cultural project "Four Cities in Motion" is realized by 4 EU and Visegrad countries. The applicant Čtyři dny (CZ) and the co-organizers Stanica Zilina (SK), KÉK - Hungarian Contemporary Architecture Centre (HU) and Kulzyk Foundation (PL) are organizations whose aim is to promote innovative art through different cultural exchange and activities.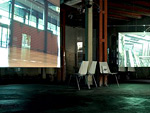 La Societat Doctor Alonso (Cataluňa)
- Tomás Aragay a Sofia Asencio
May 29 Alfred ve dvoře theatre
– international site-specific project
April - November 2007
new project of the Four Days association that will include workshops and presentations related to site-specific productions. The main aim of this series of workshops is to introduce students, young theatrical artists, and audience to the site-specific practices of the Czech artists and to help them find ways in which to use found, public spaces for their artistic expressions. PragOrient Express goes to Bratislava - Budapešť - Beograd.
Silo Theater (Amsterdam)
– interaktictive site-specific project
May 2007
Silo Theater guarantees the best quality. They are one of the most important representatives of Dutch site-specific. Silo will be an artistic leader of the project, which counts with very close cooperation with Czech artists.
More info at: www.silotheater.nl
January – August 2007
Strategies for cultural revitalization of dilapidating historical and industrial spaces in the Czech Republic and model examples of art presentation the in public space